Permit Requirements
---
Attention Contractors: Please use eTRAKiT to apply for permits, especially those that require submission of plans, as the eTRAKiT permit application launches the project and sends your invitation to upload plans into ePlan.  For assistance, please contact eplanhelp@lakelandgov.net or call the Building Inspection Division at 863.834.6012.
Residential Permitting Guidelines
Contractor & Home Owner Permitting:
Download the Residential Plan Requirements form, which includes a list of all required information necessary for permitting for new homes and additions to existing homes.
Residential Construction Best Management Practices (BMPs)
All accessory buildings such as detached carports, garages, workshops & storage sheds require a building permit.
---
Fences
Residential fences can be a maximum of six feet (6') in height on rear and interior sides, and can be placed adjacent to or on property lines, subject to the requirements of the Land Development Code and subject to the regulations relating to visibility at intersections.  Fences in front and street side yards can be a maximum of four feet (4') in height unless the fence is located outside the required front or street side setback, in which case the fence can be a maximum six feet (6') in height.  Fences must also be set back at least three feet (3') from all improved alleys.  No barbed wire, razor wire or electrified fence shall be allowed in any residential district.
A permit is required for all fences, including replacement of an existing fence.  You can download the application here or contact Building Inspection for additional information.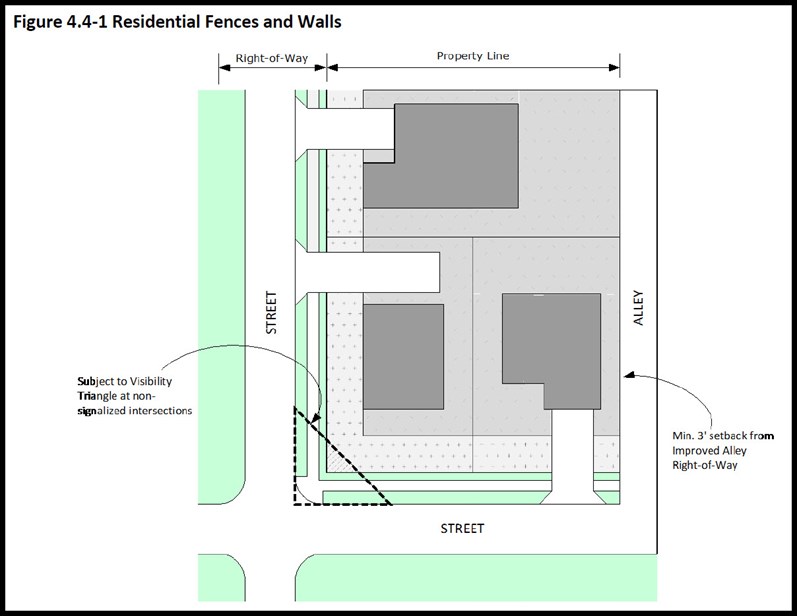 ---
Swimming Pools
All swimming pools (in-ground or aboveground), non-portable spas & hot tubs require a permit. These structures have zoning requirements allowing them to be built or placed in side or rear yards only, and are required to meet a certain distance (setback) from the side or rear property line. Click Here For Setback Information.
Pools also have certain barrier protection requirements to help prevent drowning. Certain P.U.D. zoned areas could have a special setback requirement.
---
Historic Districts
Exterior renovations, additions, demolitions, and new construction in historic districts require approval of the Historic Preservation Board prior to submission of a building permit application.
---