Home Maintenance Guide
Your home is your most important financial investment. The following guide provides helpful information about the different systems of your house and how to maintain them to protect this valuable asset.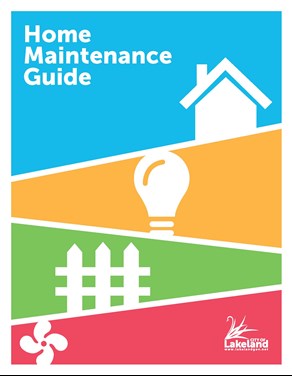 Housing Rehabilitation Available
The City of Lakeland's Housing Office is accepting applications for Rehabilitation of Owner-Occupied, Single-Family Homes ONLINE ONLY.  Applicants must own and have lived in their home for at least one year prior to applying for rehabilitation assistance. Mobile homes and rental properties are not eligible for rehabilitation assistance.  Homes in historic districts are subject to additional program restrictions.

---
The Planning & Housing Division is located:
1104 Martin L. King, Jr. Avenue
Lakeland, Florida  33805
Sources of funding for this program may include Community Development Block Grant (CDBG), HOME Investment Partnerships Program (HOME), and the State Housing Initiatives Partnership Program (SHIP). For more information, please contact the Housing Office at 863.834.3360 or by email to housing@lakelandgov.net.
---