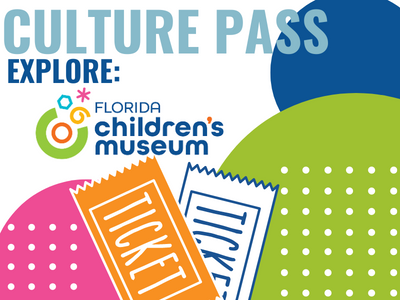 Culture Pass
Florida Children's Museum and The Lakeland Public Library have partnered to provide library card holders a new opportunity! Use your library card to checkout a Culture Pass that will allow you to visit Florida Children's Museum for free.
How the program works: 
We have one Culture Pass available each day at each of our three locations. Adults can check it out on a first come, first served basis.
The Culture Pass allows for same-day general admission for up to five people to Florida Children's Museum.
At least one adult must accompany minors, and families may checkout one pass at a time.
Your Culture Pass receipt will serve as your admission ticket to Florida Children's Museum and must be submitted to Florida Children's Museum staff.
Additional restrictions including black out dates may apply and neither the Lakeland Public Library or Florida Children's Museum is responsible for lost or stolen checkout receipts.
Do you still have questions?
Contact any of our three Lakeland library locations for more information.