Public Notice: Portion of Griffin Road Impacted for Emergency Sewer Repair
---
LAKELAND, FL (April 7, 2023) | Lakeland Water Utilities has recently learned that a 600 ft. long section of 24" gravity sewer main that runs parallel to Griffin Road needs emergency repairs. The repairs will primarily take place in the right of way adjacent to the eastbound lane of Griffin Road between Pyramid Parkway and US 98. 
The City of Lakeland has retained the firm, Kaminga and Roodvoets, Inc. (K&R) to make these emergency repairs.  Starting on April 15th K&R will begin prepping the site, setting up the signs and traffic barriers to support the project.  The sewer repair is expected to take about eight weeks to complete and crews from K&R will work around the clock, seven days per week to expedite the project.  There will be intermittent lane closures that will impact vehicular traffic, including a portion of Griffin Road that will be closed for the duration of the project.
Please find attached a site plan that reflects the work areas, and a description of the traffic lanes that will be impacted as a result of this emergency work.  Additionally, there will be pedestrian detours at the intersection of US 98 and Griffin Road. While there will be lane and sidewalk closures during this work, all driveway entrances will remain open for businesses within the boundaries of this work.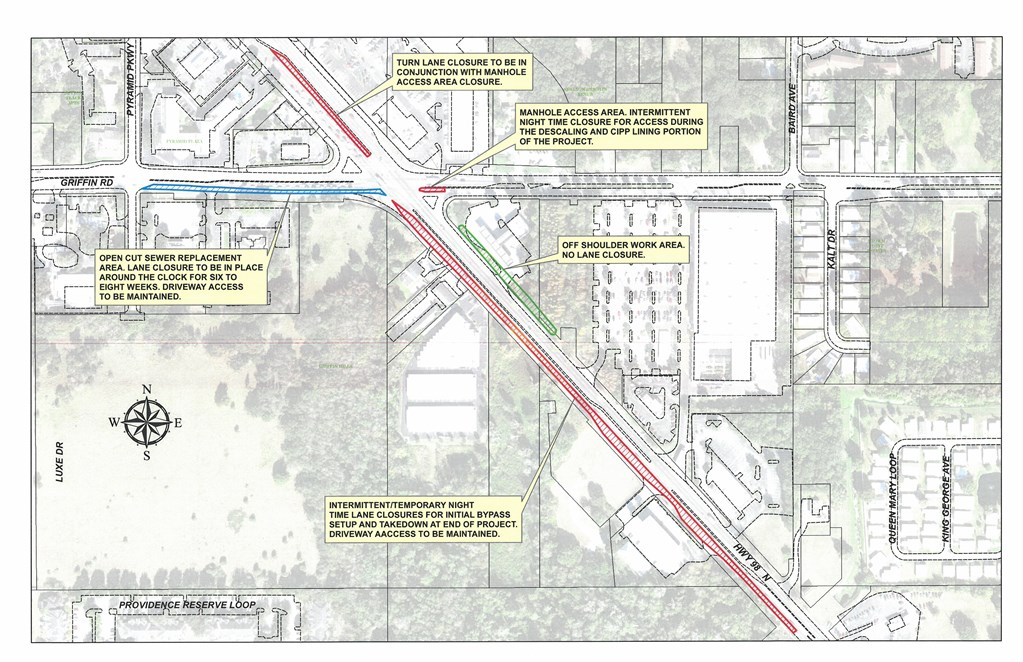 ---
Contact
Kevin Cook
Director of Communications
City of Lakeland
863.834.6264
Kevin.Cook@LakelandGov.net
---
About Lakeland
The City of Lakeland was incorporated in January 1885 and has grown to become one of the largest inland communities in Florida.  With a current population of over 100,000 Lakeland continues to grow. It has been designated a Standard Metropolitan Statistical Area by the US Census Bureau for over 30 years.  With tourist attractions and gulf beaches only an hour away, Lakeland continues to capitalize on its ideal central Florida location along the I-4 corridor.  The City owns and operates Lakeland Electric, the third largest publicly owned utility in Florida and it was one of the first to offer power in the Sunshine State over 115 years ago. 
For additional information about the City of Lakeland, please visit www.lakelandgov.net.  Citizens are also invited to follow the City on Facebook, Twitter, Instagram, YouTube, Vimeo, Snapchat and Nextdoor.  Citizens can find the City of Lakeland on these social media platforms by searching lakelandgov. 
For additional information about the City of Lakeland, please explore LakelandGov.net.
Citizens are also invited to follow the City on social media.