City News Blog: Vote For People's Choice - Lemon Street Outdoor Sculptures: 23rd Annual Florida Outdoor Sculpture Competition
---
LAKELAND, FL (March 28, 2023) | The 23rd Florida Outdoor Sculpture Competition is on display on the Lemon Street Promenade and Lakeland Public Library now through the end of 2023. The community is encouraged to vote for their favorite sculpture by visiting the People's Choice web page at https://bit.ly/2023FLOSCPeoplesChoice.
 Artists submitted applications through an online process in the fall of 2022 for their work to be considered as a part of the 2023 show. More than 70 sculptures were submitted for review. With the help of a jury comprised of Polk Museum of Art representatives, City staff, and members from the local arts community, 11 of the best sculptures were chosen to be displayed.
 The exhibit space has expanded to include one sculpture at the Lakeland Public Library on Lake Morton for the second year. The remaining sculptures are placed along three blocks of Lemon Street between South Florida and Massachusetts Avenue. The sculptures at the Library and along Lemon Street provide an interesting aesthetic that can be enjoyed on a casual stroll or while visiting the swans at Lake Morton. This year, downtown visitors can enjoy a rest on Morning Glory Pink Flower Whisper Bench or debate the meaning of Red Bear while taking in the great public art that is part of this year's Annual Florida Outdoor Sculpture Competition.
 Pam Page, Deputy Director of Parks, Recreation and Cultural Arts said, "The sculptures on Lemon Street were introduced to provide free access to public art for all who live and visit our community. We are fortunate to live in a City that recognizes the value of public art that introduces culture and well-being."
 For more information about each sculpture, artist, and the Florida Outdoor Sculpture Competition, please visit Florida Outdoor Sculpture Competition | City of Lakeland (lakelandgov.net).  Now, go vote for your favorite piece of art and the coveted People's Choice Award!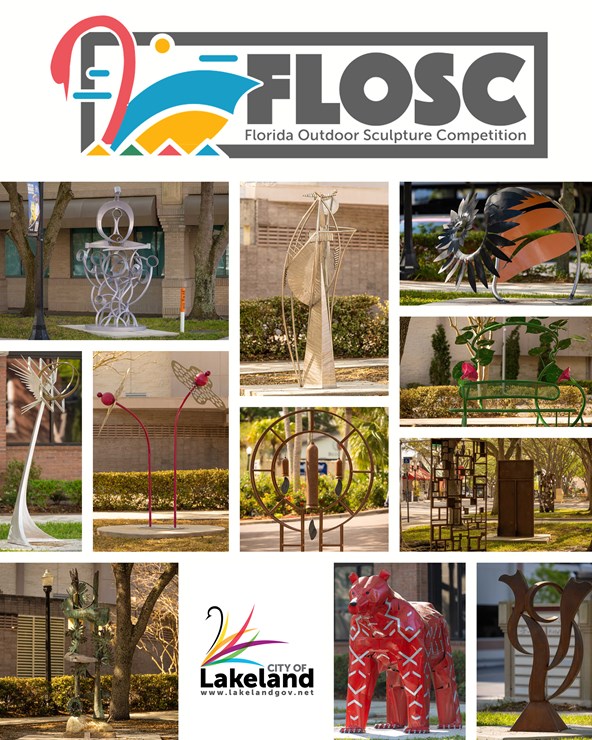 ---
Contact
Madison Wood
Communications Intern
City of Lakeland
863.834.6394
Madison.Wood@LakelandGov.net
---
About Lakeland
The City of Lakeland was incorporated in January 1885 and has grown to become one of the largest inland communities in Florida.  With a current population of over 100,000 Lakeland continues to grow. It has been designated a Standard Metropolitan Statistical Area by the US Census Bureau for over 30 years.  With tourist attractions and gulf beaches only an hour away, Lakeland continues to capitalize on its ideal central Florida location along the I-4 corridor.  The City owns and operates Lakeland Electric, the third largest publicly owned utility in Florida and it was one of the first to offer power in the Sunshine State over 115 years ago. 
For additional information about the City of Lakeland, please visit www.lakelandgov.net.  Citizens are also invited to follow the City on Facebook, Twitter, Instagram, YouTube, Vimeo, Snapchat and Nextdoor.  Citizens can find the City of Lakeland on these social media platforms by searching lakelandgov. 
For additional information about the City of Lakeland, please explore LakelandGov.net.
Citizens are also invited to follow the City on social media.