Heath Frederick Honored As Public Works Director of The Year - City News Blog
---
LAKELAND, FL (June 8, 2023) | City of Lakeland Director of Public Works, Heath Frederick was recently awarded the Public Works Director of the Year, a distinguished accolade that has a rich legacy dating back to 2012. Each year, this honor is presented during the Florida Chapter Public Works EXPO. Frederick was recognized during the Expo's Public Works Director Roundtable, where Public Works Directors across the State gather to exchange knowledge, insights, and best practices in their field. This recognition is bestowed upon individuals who have demonstrated unwavering commitment, innovation, and leadership, showcasing their profound dedication to improving the quality of life for their communities.
Frederick said, "I am truly honored and humbled by this award.  I would not be here today if not for the motivated Public Works staff who work hard every day serving the citizens of Lakeland.  A director is only as good as the staff, initiatives and services offered by the Public Works Department. This award serves as a reminder of the City's Mission – A community working together to achieve an exceptional quality of life."
The Public Works Director of the Year Award serves as a testament to the recipient's outstanding efforts in enhancing the infrastructure, services, and overall functionality of their city's Public Works systems. From transportation and utilities to parks and facilities management, these directors have played a pivotal role in shaping the urban landscape, ensuring the smooth operation and continuous progress of their cities and counties. Frederick was noted for his support of the American Public Works Association (APWA), the premier organization dedicated to promoting excellence in Public Works, providing valuable resources and networking opportunities for professionals in the field. Recipients have not only embraced the mission and values of the APWA but have also actively contributed to its growth and success.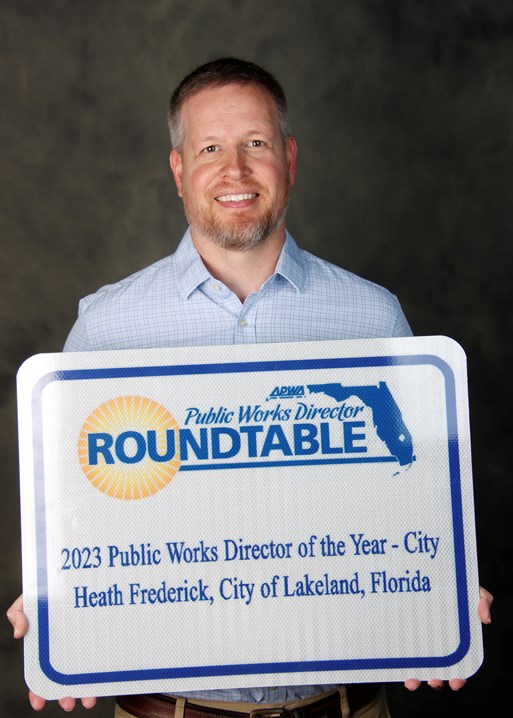 -END-
---
Contact
Kevin Cook
Director of Communications
City of Lakeland
863.834.6264
Kevin.Cook@LakelandGov.net
---
About Lakeland
The City of Lakeland was incorporated in January 1885 and has grown to become one of the largest inland communities in Florida.  With a current population of over 100,000 Lakeland continues to grow. It has been designated a Standard Metropolitan Statistical Area by the US Census Bureau for over 30 years.  With tourist attractions and gulf beaches only an hour away, Lakeland continues to capitalize on its ideal central Florida location along the I-4 corridor.  The City owns and operates Lakeland Electric, the third largest publicly owned utility in Florida and it was one of the first to offer power in the Sunshine State over 115 years ago. 
For additional information about the City of Lakeland, please visit www.lakelandgov.net.  Citizens are also invited to follow the City on Facebook, Twitter, Instagram, YouTube, Vimeo, Snapchat and Nextdoor.  Citizens can find the City of Lakeland on these social media platforms by searching lakelandgov. 
For additional information about the City of Lakeland, please explore LakelandGov.net.
Citizens are also invited to follow the City on social media.