Affordable Connectivity Program Helps Conquer The Digital Divide - City News Blog
---
LAKELAND, FL (June 8, 2023) | The City of Lakeland is informing Lakeland citizens of the Affordable Connectivity Program (ACP).  ACP is a federal benefit program providing discounted cost toward Internet services to eligible households through the Federal Communications Commission. The benefit provides a discount of up to $30 per month toward internet service for eligible households and up to $75 per month for households on qualifying Tribal lands. The Connectivity program qualifies households based on income and other factors. Any member of your household can make your household eligible if they participate in one of the programs below. For example, if your child or dependent participates in the Free and Reduced-Price School Lunch Program or is enrolled in a USDA Community Eligibility Provision school, your household qualifies for the ACP benefit. 
Federal Assistance Programs
You are eligible for the ACP if you (or someone in your household) participate in one of these programs:
Supplemental Nutrition Assistance Program (SNAP), formerly known as Food Stamps
Medicaid
Special Supplemental Nutrition Program for Women, Infants, and Children (WIC)
Supplemental Security Income (SSI)
Federal Public Housing Assistance (FPHA) (including Housing Choice Voucher (HCV) Program (Section 8 Vouchers), Project-Based Rental Assistance (PBRA)/202/811, Public Housing, and Affordable Housing Programs for American Indians, Alaska Natives or Native Hawaiians)
Veterans Pension and Survivors Benefit
Free and Reduced-Price School Lunch Program or School Breakfast Program, including at U.S. Department of Agriculture (USDA) Community Eligibility Provision schools.
Received a Federal Pell Grant in the current award year.
Eligible households can also receive a one-time discount of up to $100 to purchase a laptop, desktop computer, or tablet from participating providers if they contribute more than $10 and less than $50 toward the purchase price. The Affordable Connectivity Program is limited to one monthly discount for internet service and one device discount per household. Qualifications to become an eligible recipient of the benefit program can be found at www.affordableconnectivity.gov. Once an application has been submitted and approved, it is required that all eligible households contact a participating internet service provider of their choice to apply the benefit to their plan. Participating companies may require their company's own application process. A list of participating service providers can be found at www.affordableconnectivity.gov/companies-near-me/.


Citizens can choose to fill out the ACP application online or obtain a physical copy of the form from the following locations:


Lakeland Public Library (Main Branch), 100 Lake Morton Drive, Lakeland, FL 33801
Larry R. Jackson Library, 1700 N. Florida Avenue, Lakeland, FL 33805
Coleman-Bush Building, 1104 Martin L King Jr Ave, Lakeland, FL 33805
Note: Applicants who utilize the physical form will be responsible for the mailing cost.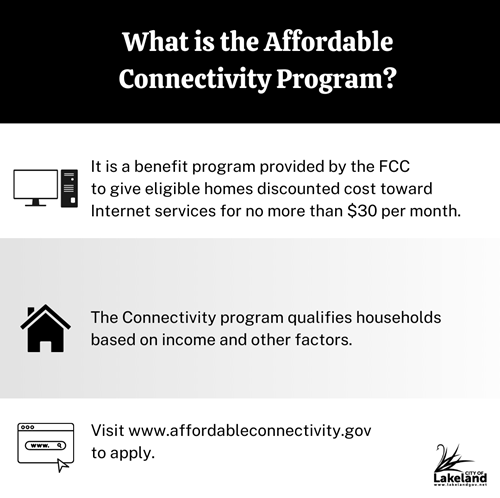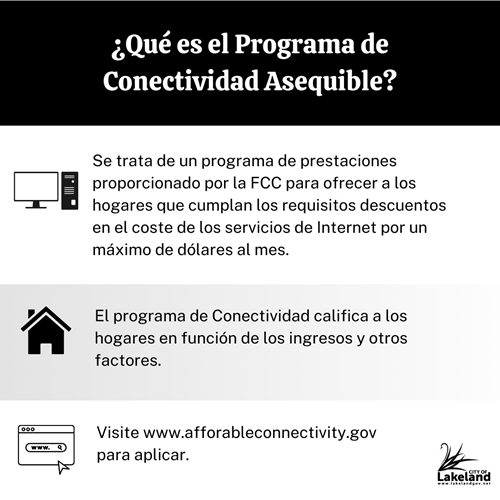 ---
Contact
Jamin Smith
Digital Content Specalist
City of Lakeland
863.834.6394
Jamin.Smith@LakelandGov.net
---
About Lakeland
The City of Lakeland was incorporated in January 1885 and has grown to become one of the largest inland communities in Florida.  With a current population of over 100,000 Lakeland continues to grow. It has been designated a Standard Metropolitan Statistical Area by the US Census Bureau for over 30 years.  With tourist attractions and gulf beaches only an hour away, Lakeland continues to capitalize on its ideal central Florida location along the I-4 corridor.  The City owns and operates Lakeland Electric, the third largest publicly owned utility in Florida and it was one of the first to offer power in the Sunshine State over 115 years ago. 
For additional information about the City of Lakeland, please visit www.lakelandgov.net.  Citizens are also invited to follow the City on Facebook, Twitter, Instagram, YouTube, Vimeo, Snapchat and Nextdoor.  Citizens can find the City of Lakeland on these social media platforms by searching lakelandgov. 
For additional information about the City of Lakeland, please explore LakelandGov.net.
Citizens are also invited to follow the City on social media.