City of Lakeland to Host 15th Biennial Historic Home Workshop - City News Blog
---
LAKELAND, FL (August 28, 2023) | Historic homeowners are invited to attend the 15th Biennial Historic Home Workshop hosted at Florida Southern College on October 14, 2023. The Workshop will take place in the Ordway Building located at 1049 Frank Lloyd Wright Way from 8:00 a.m. to 1:00 p.m.
With the last Historic Home Workshop occurring in 2019, historic preservationists are looking forward to presenting this free Workshop once again.
"Learning how to maintain a historic house and plan for appropriate repairs is critical for homeowners who value their home's architectural integrity and charm," said Emily Foster, Senior Planner, Historic Preservation for the City of Lakeland. "The Historic Home Workshop provides a unique opportunity to learn from experts in historic building restoration about specific topics concerning maintaining and living in a historic house."
The Workshop will include nine sessions ranging on topics such as wood window craftsmanship and restoration to discovering a home's historic past. Each one-hour session will be conducted by local or statewide experts. Light refreshments will be provided.
Workshop topics include:
Solving Water Intrusion and Saving Your Plaster Walls – Angel Corrales, Corrales Artisans and Consultants LLC
The Quest for the Perfect Wood Window – Steve Quillian, Wood Window Makeover, LLC
Identifying Issues Before They Become Disasters – Scott Sidler, Austin Historical
Preservation Pitfalls – Danny Moody, Pro Historical, Inc.
Follies and Fables of Historic Home Renovations - A Contractor's Memoir – Daniel Sharett, General Contractor, Sharrett Construction
Fire Prevention for Old Houses – Madison Blair, Communication & Education Assistant, Lakeland Fire Department
The Basics of Building Permitting and Code Enforcement – Franklin Adams, Chief Building Inspector, City of Lakeland and Joie Brownlow, Code Enforcement Officer, City of Lakeland
Discover Your Home's Past – LuAnn Mims, Special Collections Librarian Supervisor, Lakeland Public Library
Demystifying the Design Review Process – Emily Foster, Senior Planner Historic Preservation, City of Lakeland
Florida Southern's Ordway Building is one of the many buildings on the college campus designed by famed architect Frank Lloyd Wright. The Lucius Pond Ordway Industrial Arts Building was completed in 1952 and was one of Mr. Wright's favorite buildings on the campus. A free tour of the Frank Lloyd Wright buildings will be offered to participants at no cost at the conclusion of the Workshop. (Limited to 25 participants, first-come, first-served)
Companies that provide services and supplies for the renovation, maintenance, and improvement of older homes will be represented in the Exhibit Area. Other exhibitors will include City agencies and various organizations devoted to historic preservation.
This Workshop is open to the public but is focused on owners of historic homes in Lakeland. This is a great opportunity to learn about historic building rehabilitation and to meet other people involved in preserving the architectural heritage of Lakeland. This event is sponsored by the City of Lakeland and Lakeland Historic Preservation Board, Historic Lakeland, Inc., and Florida Southern College.
For more information, please call Emily Foster, Senior Planner, Historic Preservation in Community & Economic Development at 863-834-6011 or visit the City's website at www.lakelandgov.net.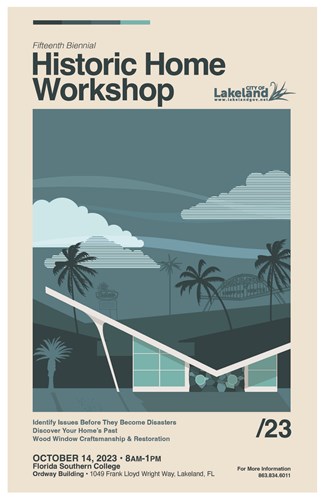 ---
Contact
Kevin Cook
Director of Communications
City of Lakeland
863.834.6264
Kevin.Cook@LakelandGov.net
---
About Lakeland
The City of Lakeland was incorporated in January 1885 and has grown to become one of the largest inland communities in Florida.  With a current population of over 100,000 Lakeland continues to grow. It has been designated a Standard Metropolitan Statistical Area by the US Census Bureau for over 30 years.  With tourist attractions and gulf beaches only an hour away, Lakeland continues to capitalize on its ideal central Florida location along the I-4 corridor.  The City owns and operates Lakeland Electric, the third largest publicly owned utility in Florida and it was one of the first to offer power in the Sunshine State over 115 years ago. 
For additional information about the City of Lakeland, please visit www.lakelandgov.net.  Citizens are also invited to follow the City on Facebook, Twitter, Instagram, YouTube, Vimeo, Snapchat and Nextdoor.  Citizens can find the City of Lakeland on these social media platforms by searching lakelandgov. 
For additional information about the City of Lakeland, please explore LakelandGov.net.
Citizens are also invited to follow the City on social media.