Honoring Sergeant Travis Miller
---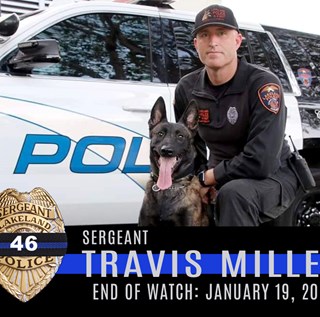 It is with great sadness that we announce Sergeant Travis Miller passed away on Thursday, January 19, 2023 after a hard-fought battle with cancer. Travis was a dedicated husband, father, veteran and police officer who will truly be missed.
Sergeant Travis Miller was born and raised in Tampa, FL. and a fifth generation Floridian. In 2000 after graduating High School, Sergeant Miller enlisted in the United States Marine Corps where he served as a Military Police Working Dog Handler, achieving the rank of Sergeant. Sergeant Miller trained and certified three military working dogs during his active duty service, deploying with the United States Secret Service to New York City, NY and Camp David, Maryland. Sergeant Miller was stationed in Okinawa, JP and Cherry Point, NC where he served as the canine trainer for his unit.
In 2005, Sergeant Miller joined the Polk County Sheriff's Office. During his tenure he worked in a diversity of roles to include Uniform Patrol, the Proactive Community Attack On Problems Unit, as SWAT team member, as a Street Training Instructor, as a General Crimes Detective, and lastly as a Canine Handler. Sergeant Miller attended hundreds of hours of training while working for the Polk County Sheriff's Office including Investigative Interviews, Field Training Instructor, Basic SWAT School, Advanced SWAT School, SWAT and K9 interaction course, Line Supervision, FDLE General Instructor, and FDLE Canine Instructor to name a few.
In 2014, Sergeant Miller joined the Lakeland Police Department. During his tenure he worked in Uniform Patrol, and served as a Field Training Instructor (FTO), a SWAT team member, a member of the Street Crimes Unit, and as a canine handler. 
Sergeant Miller had a combined 22 years of law enforcement experience.
Travis you were simply the best. It was an honor to serve alongside you. Thank you for your leadership, your friendship and your service to both our country and our community.
Please keep all who love him in your thoughts and prayers.