City News Blog: John McGee Park Ribbon Cutting Official Opening Ceremony June 4th
---
LAKELAND, FL (May 11, 2022) | The community is invited to join the City of Lakeland with the McGee Family as we dedicate John McGee Park with a ribbon cutting on Saturday, June 4th at 10 a.m.  John McGee Park (formally Cypress Youth Sports Complex) is located at 2125 Edgewood Dr. S.
With support from Mike and Kathy McGee, the community will find just over a 1/2-mile walking path, two lighted multipurpose fields, and a brand-new car-themed playground recognizing McGee Tire Stores, started by the late John McGee. These improvements are a great addition to the already established multipurpose fields and bathroom facilities at the park. Find John McGee Park and the rest of the Parks, Recreation, and Cultural Arts facilities on Parks Finder. 
Bob Donahay, City of Lakeland Parks, Recreation & Cultural Arts Director said, "We are very excited to officially celebrate the opening of John McGee Park.  The City of Lakeland is very thankful for the McGee Family and their generous donation to help make this park come alive with the addition of new family-oriented amenities."
Mike McGee said, "Kathy and I are honored to make this gift to the City of Lakeland in memory of my dad who founded McGee Tire Stores. He loved to watch children of all ages play and interact. Lakeland has been our home since 1974 and we look forward to seeing this park being used and enjoyed by the community."
"This is a tremendous gift, and the City of Lakeland is extremely grateful that we have citizens like Mike and Kathy McGee that care about the well-being of the community, enough to donate $600,000 toward the park," said City Manager Shawn Sherrouse. "This park is a much-needed facility that serves our youth sports programs, and we are thankful to the McGee Family for making the park so much better with their donation. The kids will love the new car-themed playground."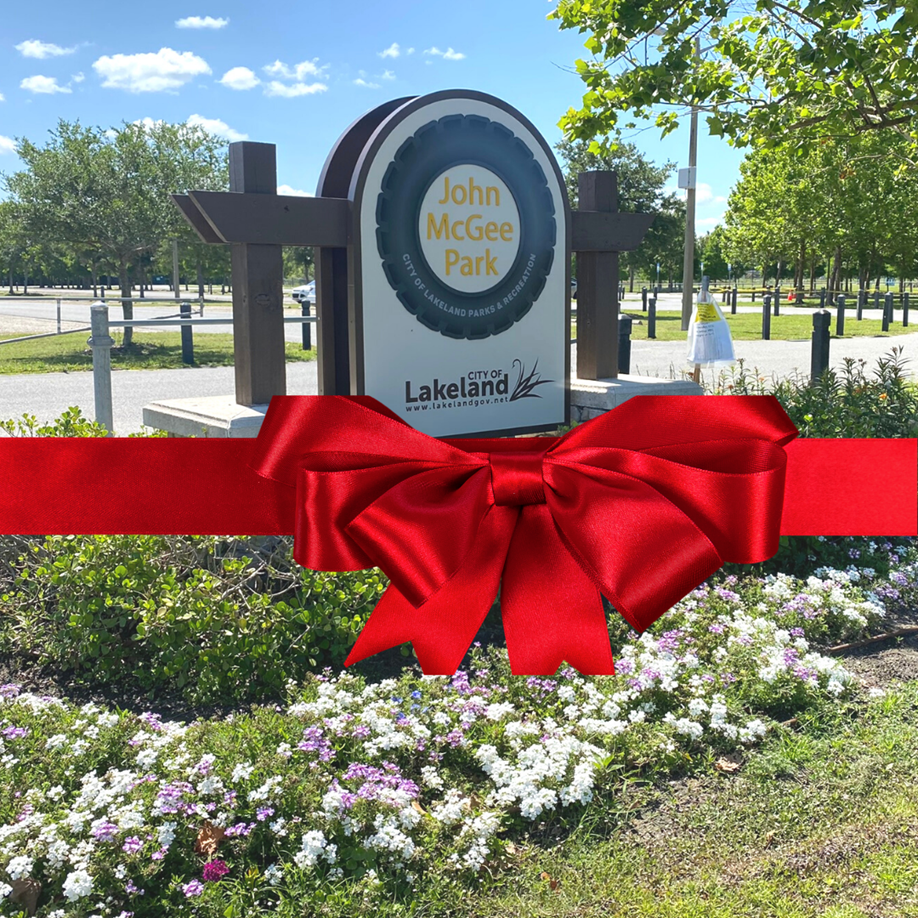 ---
Contact
Kevin Cook
Director of Communications
City of Lakeland
863.834.6264
Kevin.Cook@LakelandGov.net
---
About Lakeland
The City of Lakeland was incorporated in January 1885 and has grown to become one of the largest inland communities in Florida.  With a current population of over 100,000, Lakeland continues to grow. It has been designated a Standard Metropolitan Statistical Area by the US Census Bureau for over 30 years.  With tourist attractions and gulf beaches only an hour away, Lakeland continues to capitalize on its ideal central Florida location along the I-4 corridor.  The City owns and operates Lakeland Electric, the third-largest publicly owned utility in Florida and it was one of the first to offer power in the Sunshine State over 110 years ago.
For additional information about the City of Lakeland, please visit www.lakelandgov.net.  Citizens are also invited to follow the City on Facebook, Twitter, Instagram, YouTube, Vimeo, Snapchat and Nextdoor.  Citizens can find the City of Lakeland on these social media platforms by searching lakelandgov. 
For additional information about the City of Lakeland, please explore LakelandGov.net.
Citizens are also invited to follow the City on social media. 
---