Summit Consulting Building Gets Topped With Final Roof Concrete Pour
---
Exterior Pre-Cast Panels Are Next Step - Portion of East Main Street Impacted 
---
LAKELAND, FL (March 18, 2021) | Construction continues on Summit Consulting's new eight-story, 135,000 square foot office building located on 1.2 acres at 117 N. Massachusetts Avenue on Lake Mirror in downtown Lakeland. On March 19th, general contractors will be topping off the shell of this building with the final pour of concrete on the rooftop level.
As concrete work on the shell of the building comes to a close, the next phase of the building will start with the delivery and installation of large pre-cast concrete panels that will cover the building's exterior. These pre-cast panels will be delivered to the site in phases along Massachusetts Avenue and Main Street over a 70-day period. During this period, there will be minimal additional impacts to north/south-bound traffic on Massachusetts Avenue beyond the existing lane closures and some visual distractions. However, starting on April 26th, a portion of East Main Street will be closed to traffic seven-days-per-week for an estimated four-week period as the large panels are delivered to the north side of the building.  East Main Street will be completely closed at Massachusetts Avenue. Businesses on the north side of Lake Mirror will have access to their properties heading west on East Main Street. The detailed map below shows delivery routes.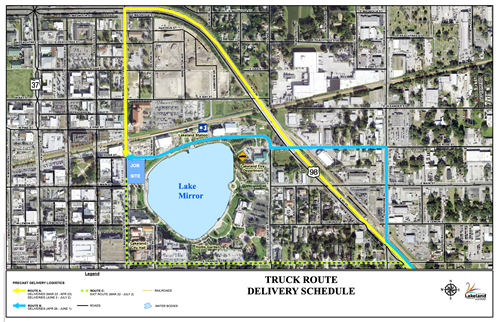 Jason Willey, Manager of Strategic Projects for the City of Lakeland said, "We are working very closely with the development team to help keep transportation delays at a minimum. This will be an impactful period of the project. Once the pre-cast panels are attached, the contractors will transition into the builds interior buildout and tenant improvements."
The panels will be set in place with the large industrial cranes that are currently on site.  An additional crane will be brought in during this phase to help stabilize the large panels during the installation process.  There will be 401 pre-cast pieces in total that will be delivered to the site for installation. Panel sizes will range in width from 6' to 14' and range in height from 10' to 28'. Depending upon the dimensions, specific panels could weigh anywhere between 3,000 to 20,000 pounds. Deliveries will be up to six days per week and will start around 7 a.m. and end by 6 p.m.
City Manager Shawn Sherrouse said, "The Summit Consulting Building is a $50 million, Class A office facility that will have integrated parking accommodations on the bottom floors for their corporate headquarters. As part of the project, the City contracted spaces for downtown visitors to use on nights and weekends."  He added, "Summit Consulting is going to be a great addition to our downtown. We are looking forward to having additional office workers visiting our downtown restaurants and shops when the building is completed Spring 2022 and we appreciate the partnership that will allow after-hours parking for our citizens."
Previous Coverage of the Summit Consulting Building Project
---