City of Lakeland Launches New & Improved Mobile App
---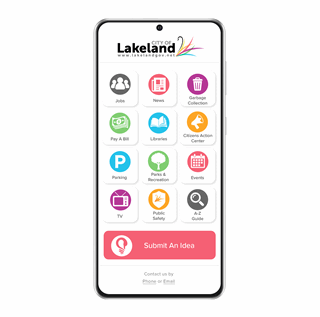 LAKELAND, FL (June 11, 2021) | The City of Lakeland has launched an updated mobile app as just another way to connect with citizens. The app is now available in the Apple iTunes app store and the Android Google Play store. The app is full of features allowing citizens to access the City to find the latest news, information on events, report an issue and view live meetings with the touch of a button. The newest feature allows citizens to submit an idea on ways to improve City services. Users can easily find the app by searching lakelandgov in the app stores.
Get it on Google Play | Get it in the App Store
"I am very excited to introduce the new and improved City of Lakeland mobile app," said City Manager Shawn Sherrouse. "With the ability to use your phone to report an issue and easily find a contact number for a service, this app is yet another way for the City to be open, transparent, and responsive to our citizens. I am most excited, however, about the app's new feature that allows our residents to send us their ideas on ways we can improve City services." He added, "We are always looking at evolving technology to better communicate with our citizens, and we welcome constructive feedback on ways we can improve services through new ideas."
The app is user-friendly and easy to navigate with brightly colored menu buttons that take the users directly to informational and most visited services on the City's digital platforms. The News button pulls information from the City News Blog that includes press releases and news stories from the City. Mobile app users can view job opportunities, garbage collection information, pay a bill, access parking information, view events, and explore library services. 
The Lakelandgov app also provides an A-Z contact list for the many services and Departments within the City. In addition to the City's existing Citizens Action Center found online, the app offers citizens a simple way to report issues—like potholes, graffiti, missed yard waste, and streetlights that are out. Users can include an address, description, and a photo of the issue at hand. Once an issue is reported, users can follow the progress with the Citizen Action Center's tracking feature.  
Kevin Cook, Director of Communications said, "The app was developed in-house by a team from the Department of Information Technology and the City's Communications Department. Our goal is to have an informed and engaged citizenry and we will continue to develop technologies to help us reach that goal." He added, "The City of Lakeland had an older mobile app but as device platforms became more complex, the app proved to be dated and needed a face lift. The new app just received final approval from both app store platforms, so it is now available to the public."
Contact
Kevin Cook
Director of Communications
City of Lakeland
863.834.6264
Kevin.Cook@LakelandGov.net
---
About Lakeland
The City of Lakeland was incorporated in January 1885 and has grown to become one of the largest inland communities in Florida.  With a current population of over 100,000, Lakeland continues to grow. It has been designated a Standard Metropolitan Statistical Area by the US Census Bureau for over 30 years.  With tourist attractions and gulf beaches only an hour away, Lakeland continues to capitalize on its ideal central Florida location along the I-4 corridor.  The City owns and operates Lakeland Electric, the third-largest publicly owned utility in Florida and it was one of the first to offer power in the Sunshine State over 110 years ago.
For additional information about the City of Lakeland, please explore LakelandGov.net.
Citizens are also invited to follow the City on social media. 
---