Main Library Will Close for Two Days and Reopen with Limited Services
---
During Construction for New Lakeland History & Culture Center
---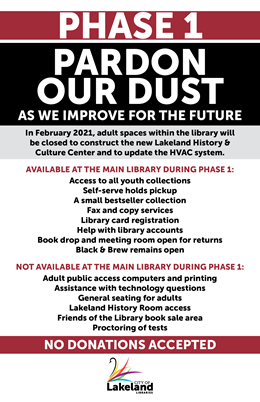 LAKELAND, FL (February 16, 2021) | The Lakeland Public Library (Main Branch), located at 100 Lake Morton Drive, will be closed on February 22nd & 23rd and re-open with limited services Wednesday, February 24th.  This closure will be the start of Phase 1 of a two-phase construction project at the Main Library location. Construction for Phase 1 is expected to take up to one year to complete.
Bob Donahay, Director of Parks & Recreation said, "The completed project will include a NEW Lakeland History & Culture Center with static and interactive displays designed to share Lakeland's unique history.  The Center will tell Lakeland's story and highlight those that helped shape our community to what it is today."  He added, "Along with the addition of the History & Cultural Center, the construction will include an updated HVAC system, renovations in the youth services area and updates to meeting room spaces. It is important to note that Black & Brew located at Main Library will be open throughout the construction process." 
During Phase 1 of construction, the other Lakeland Public Library locations will have adjusted hours. Also, once re-opened on February 24th, the main library will have reduced services. 
---
Lakeland Public Library, Main – effective 2/24
Monday – Thursday                 9 a.m. – 7 p.m.
Friday - Saturday                      9 a.m. – 5 p.m.
Sunday                                            1:30 p.m. – 5 p.m.
Larry R Jackson Branch Library – Effective 2/22
Monday – Thursday                 9 a.m. – 7 p.m.
Friday – Saturday                      9 a.m. – 5 p.m.
Sunday                                             1:30 p.m. – 5 p.m.
eLibrary South Lakeland – Effective 2/22
Monday – Thursday                 9 a.m. – 7 p.m.
Friday – Saturday                       9 a.m. – 5 p.m.
Closed on Sunday
A complete list of services and frequently asked questions regarding construction can be found on the Phase I FAQ's page.
---
During Phase 1, the following services will be available at the Main Library
Browse and checkout childrens' and teen materials
Pick up self-serve holds
Return borrowed materials
Fax/photocopy
Browse and checkout Bestseller materials for Adults
Get a library card
Visit Black & Brew Coffee Shop 
Additional library services are available at the Larry R. Jackson Branch Library - 1700 N. Florida Avenue, and eLibrary South Lakeland - 4740 S. Florida Avenue
Public access computers for adults 
Wi-Fi access
Printing from public computers and wirelessly
Browse and Checkout library materials for all ages
Staff assistance with technology 
Fax/Photocopy
The Lakeland Public Library will close the adult services areas of the building to prepare for construction and relocate library materials/equipment off-site. These materials will still be available on a request basis but not directly accessible to the public. The Main Library's Meeting/Community Room off the Lobby will serve as the entrance and exit to Youth Services as well as the space to check out materials and pick-up holds.  It will house a small collection of popular adult books and DVDs. Donahay said, "We apologize for any inconvenience that our construction project may have but once completed, we will have a beautiful new resource with our History & Cultural Center along with a much needed update with many of our other amenities at the library.  I want to thank our customers in advance for their patience and please remember to visit Black & Brew!"
Contact
Kevin Cook
Director of Communications
City of Lakeland
863.834.6264
Kevin.Cook@LakelandGov.net
---
About Lakeland
The City of Lakeland was incorporated in January 1885 and has grown to become one of the largest inland communities in Florida.  With a current population of over 100,000, Lakeland continues to grow. It has been designated a Standard Metropolitan Statistical Area by the US Census Bureau for over 30 years.  With tourist attractions and gulf beaches only an hour away, Lakeland continues to capitalize on its ideal central Florida location along the I-4 corridor.  The City owns and operates Lakeland Electric, the third-largest publicly owned utility in Florida and it was one of the first to offer power in the Sunshine State over 110 years ago.
For additional information about the City of Lakeland, please explore LakelandGov.net.
Citizens are also invited to follow the City on social media. 
---