Lakeland Citizens Academy: Governmentology 101
---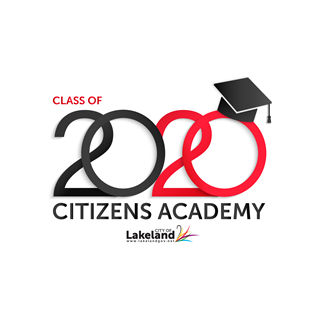 LAKELAND, FL (January 7, 2020) | Registration is now open for the 23rd Lakeland Citizens Academy. This free program allows citizens to gain insight into City services and the functions of local government through interactive, hands on activities. The 2020 Citizens Academy will start Thursday, February 27th.  All sessions are from 6-8 p.m. and at least four sessions will meet away from City Hall. A light dinner is served at all sessions starting at 5:45 p.m. with the class beginning promptly at 6 p.m.
City Manager Tony Delgado said, "This is a very popular program that allows our citizens to learn about their local government in a fun environment. Space is limited and each year the roster fills up fast. Interested citizens should register quickly to secure their name in the class."
The Citizens Academy program consists of six (6), two (2) hour evening sessions. The program starts in February and runs through April. The program is limited to 30 Lakeland residents age 16 and older.  Enrollment in the class is based on a first-come-first-served basis.  All participants interested in the Citizens Academy are encouraged to attend all of the sessions in order to get the most from the program. Each participant will receive a Governmentology 101 Certificate upon completion of the program.
2022 Citizens Academy Sessions
| | |
| --- | --- |
| February 24 | History & Finance |
| March 3  | Police Department |
| March 10 | Fire Department |
| March 17  | Public Works & Planning |
| April 31 | Utility Services |
| April 7 | Parks & Recreation |
| April 17 | Lakeland Linder Airport & Graduation |
The Lakeland's Citizens Academy is a FREE public information program. The purpose of the Citizens Academy is to familiarize citizens in the community with Lakeland's City government.  The program includes the function of City departments, explains the relationship between the City Commission and City Administration, allows an overview of the budgetary process and it provides an outlet for citizen input. The Citizens Academy is an interactive program that incorporates hands-on activities as part of the learning process and provides a behind the scenes look at municipal government operations.
Registration
Those interested in participating should contact Christina Camp at Christina.camp@lakelandgov.net to secure a spot on the roster.  Please provide a home mailing address and phone number in your email. 
Media Contact
Kevin Cook
---
About Lakeland
The City of Lakeland was incorporated in January 1885 and has grown to become one of the largest inland communities in Florida.  With a current population over 100,000, Lakeland continues to grow. It has been designated a Standard Metropolitan Statistical Area by the US Census Bureau for over 30 years.  With tourist attractions and gulf beaches only an hour away, Lakeland continues to capitalize on its ideal central Florida location along the I-4 corridor.  The City owns and operates Lakeland Electric, the third-largest publicly owned utility in Florida and it was one of the first to offer power in the Sunshine State over 110 years ago.
For additional information about the City of Lakeland, please explore lakelandgov.net.
Citizens are also invited to follow the City on social media. 
---