Public Notice: Roundabout Construction At Intersection Of Drane Field Road And Don Emerson Drive Slated To Start May 1st
---
LAKELAND, FL (April 14, 2022) - The construction for a new roundabout at the intersection of State Road 572 (Drane Field Road) and Don Emerson Drive is slated to start May 1, 2022.  The single lane roundabout is being constructed to accommodate the traffic demand at this intersection which serves as the primary access to the Lakeland Regional Airport and the Publix Super Markets corporate offices.  The completed project will include drainage, lighting, and landscape improvements within the scope of work.  
Ryan Lazenby, Civil Engineer Manager for the City of Lakeland said, "The area around the airport continues to grow and we have been discussing this roundabout for some time. The City of Lakeland and our partners at the Florida Department of Transportation (FDOT) are eager to see the construction of this project move forward to meet the increasing demands of the roadway.  The roundabout will improve traffic operations, roadway safety, and will act as a gateway to the Lakeland Linder International Airport/Publix Super Markets corporate campus."
The roundabout project is located on the state highway system (SR 572) and FDOT is funding approximately $2.2 million for the construction through a Joint Participation Agreement with the City of Lakeland. The City of Lakeland is funding approximately $750,000 for design and Construction Engineering and Inspection (CEI) phases of the project. 
The project does include a detailed Temporary Traffic Control Plan which will maintain the existing number of lanes on SR 572 (Drane Field Road) throughout the duration of construction. Construction is in anticipated to be completed in February 2023, but the completion date may be adjusted to allow for additional weather-related delays.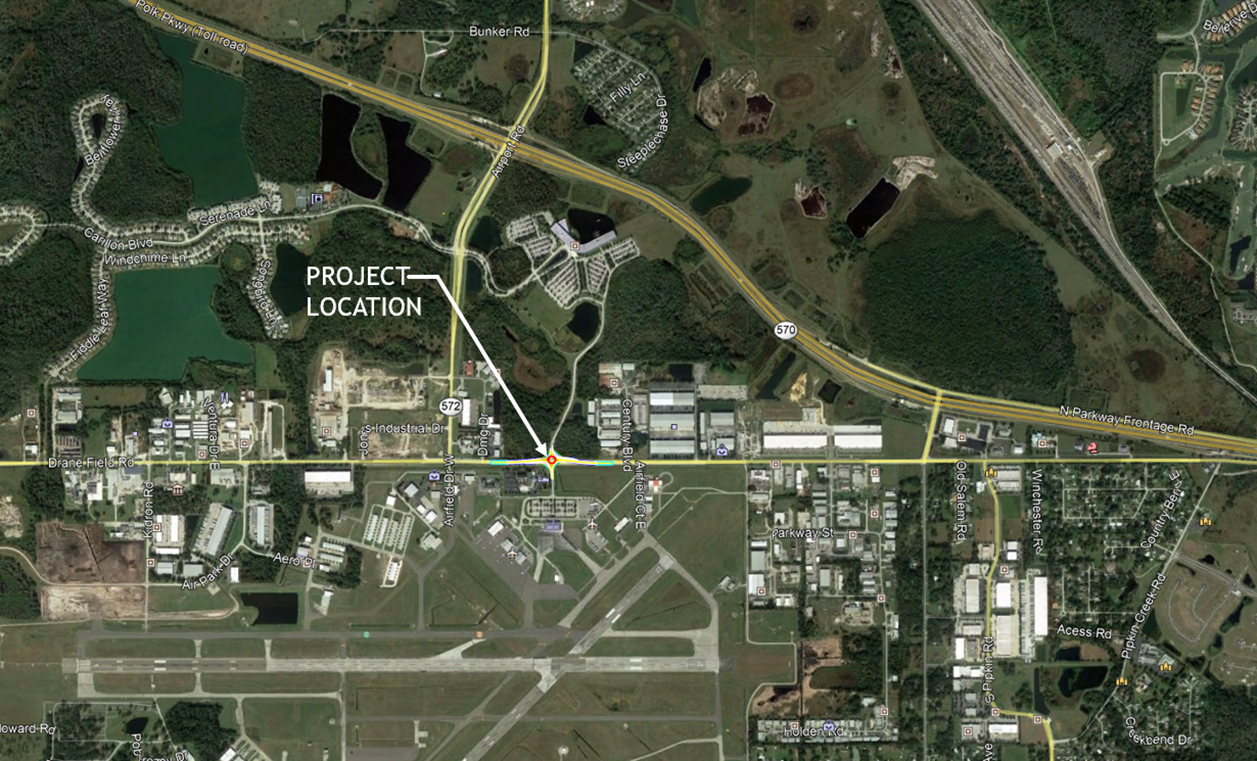 ---
Contact
Kevin Cook
Director of Communications
City of Lakeland
863.834.6264
Kevin.Cook@LakelandGov.net
---
About Lakeland
The City of Lakeland was incorporated in January 1885 and has grown to become one of the largest inland communities in Florida.  With a current population of over 100,000, Lakeland continues to grow. It has been designated a Standard Metropolitan Statistical Area by the US Census Bureau for over 30 years.  With tourist attractions and gulf beaches only an hour away, Lakeland continues to capitalize on its ideal central Florida location along the I-4 corridor.  The City owns and operates Lakeland Electric, the third-largest publicly owned utility in Florida and it was one of the first to offer power in the Sunshine State over 110 years ago.
For additional information about the City of Lakeland, please visit www.lakelandgov.net.  Citizens are also invited to follow the City on Facebook, Twitter, Instagram, YouTube, Vimeo, Snapchat and Nextdoor.  Citizens can find the City of Lakeland on these social media platforms by searching lakelandgov. 
For additional information about the City of Lakeland, please explore LakelandGov.net.
Citizens are also invited to follow the City on social media. 
---