Portion of Interstate 4 Through Polk County Will Be Resurfaced Starting April 5th
---
Extensive Project Will Cause Lane Closures During Evening/Early Morning Hours
---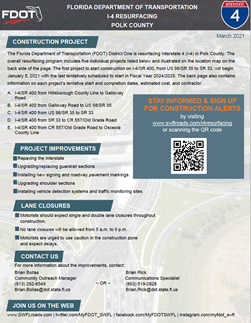 LAKELAND, FL (March 26, 2021) | The Florida Department of Transportation will start resurfacing the portion of Interstate 4 (I-4) between SR 33 to CR 557/Old Grade Road on Monday, April 5th.  This section of I-4 is part of a larger interstate repaving project that started at the beginning of 2021. Project improvements will include: repaving the interstate, upgrading/replacing guard rail sections, installing new signage and roadway pavement markings, upgrades to the road shoulder and the installation of traffic monitoring systems.
Motorists should expect single and double lane closures throughout the construction period during evening and early morning hours. There will be NO lane closures between 5 a.m. – 9 p.m. to lessen the impact on I-4 travelers. It is estimated the $13.5 million project will start April 5th and last through early 2023. Motorists are urged to use caution in the construction zone and should expect delays.
For more information about the improvements, please contact Brian Bollas, Community Outreach Manager with FDOT at 813.262.8549 or brian.bollas@dot.state.fl.us.
Click the image above or here to view the FDOT plan (PDF).
Contact
Brian Bollas
Community Outreach Manager
Florida Department of Transportation
813.262.8549
brian.bollas@dot.state.fl.us
Kevin Cook
Director of Communications
City of Lakeland
863.834.6264
Kevin.Cook@LakelandGov.net
---
About Lakeland
The City of Lakeland was incorporated in January 1885 and has grown to become one of the largest inland communities in Florida.  With a current population of over 100,000, Lakeland continues to grow. It has been designated a Standard Metropolitan Statistical Area by the US Census Bureau for over 30 years.  With tourist attractions and gulf beaches only an hour away, Lakeland continues to capitalize on its ideal central Florida location along the I-4 corridor.  The City owns and operates Lakeland Electric, the third-largest publicly owned utility in Florida and it was one of the first to offer power in the Sunshine State over 110 years ago.
For additional information about the City of Lakeland, please explore LakelandGov.net.
Citizens are also invited to follow the City on social media. 
---