Public Notice: Sewer Rehab Work to Start Near Lake Morton Historic District & Continue in Other Areas of Town
---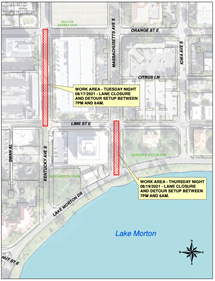 LAKELAND, FL (August 13, 2021) | In addition to the South Florida Avenue sewer rehab work that will be finishing up on Monday, August 16th, contract crews are scheduled to also be working in the downtown area just north of Lake Morton next week.
On Tuesday night, August 17th, crews are scheduled to be working on the sewer main in S. Kentucky Avenue between Orange Street and Lime Street.
On Thursday night, August 19th, contract crews are scheduled to be working on the sewer main in S. Massachusetts Avenue between E. Lime Street and Lake Morton Drive. Lane closures and detours will be in place from 7 p.m. in the evening and all lanes will be re-opened by 6 a.m. the following morning.
Like the sewer work that has been taking place on Florida Avenue, this is part of a scheduled sewer rehabilitation project that will give a new lease on life to sewer mains that were constructed in the 1920s. The sewer rehabilitation work is using cured-in-place technology to extend the life of older pipes. The cost-efficient process uses an epoxy liner installed to the pipes' interior and a curing agent activates the liner to adhere to the pipe walls. Once fully cured, the lining acts as a new pipeline.