City of Lakeland Looking for Citizen Input to Help Name New Aquatic Plant Harvester​
---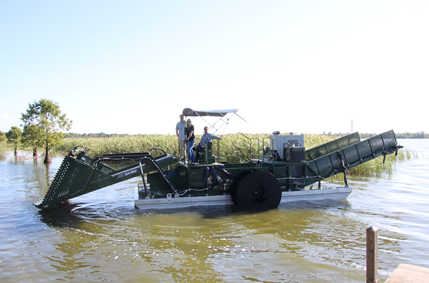 ---
LAKELAND, FL (August 27, 2020) | The City of Lakeland recently purchased an aquatic plant harvester built by Inland Lake Harvesters, Inc. of Burlington, Wisconsin and we are looking to the public to help name the machine.  Laurie Smith, Manager of Lakes & Stormwater said, "Technically the harvester is a boat, registered as a vessel with the State of Florida so we need a clever name for our new boat that also happens to remove invasive aquatic vegetation."
The naming contest will be promoted on all of the City's social media platforms.  Those interested in participating must email one submission per person to communications@lakelandgov.net.  The winner will be chosen by staff based on what they think is the best name for the vessel.  The winner will receive a gift bag that will feature a number of City related items including a $100 gift card.  City of Lakeland employees are not eligible to participate. 
---
The contest will start Friday, August 28th, and end Friday, September 4th at 5 p.m.
Email name suggestions to communications@lakelandgov.net.
---
The harvester will be used to remove floating and submerged aquatic plants from the City's lakes to combat invasive aquatic species. Removing invasive water plants will encourage the growth of healthy native plant communities and helps maintain open water navigational channels for boaters. 
"Aquatic plant harvesting removes undesirable plants and restores the natural ecology of the water body," said Smith.  "Removing invasive water plants also improves fish and wildlife habitat."
Physically removing aquatic plants reduces the undesirable results of using expensive herbicides that allow the plants to die in place, sinking to the bottom of the lake and contributing to muck accumulation and decreased water quality.  The harvested weeds can be repurposed as compost, fertilizer, or livestock feed.     
The ILH9-650 aquatic harvester is 10 feet wide by 42 feet long and has a load capacity of 650 cubic yards (10,000 pounds!) and weighs 14,000 lbs.  The underwater cutting blades are nine feet wide and can be lowered up to eight feet below the surface of the water to cut through aquatic plants.  The plants are gathered and loaded onto the harvester through a conveyor system.  Once full, the harvester transfers the weeds to a waiting dump truck to be transported to a composting facility. 
Contact
Kevin Cook
---
About Lakeland
The City of Lakeland was incorporated in January 1885 and has grown to become one of the largest inland communities in Florida.  With a current population of over 100,000, Lakeland continues to grow. It has been designated a Standard Metropolitan Statistical Area by the US Census Bureau for over 30 years.  With tourist attractions and gulf beaches only an hour away, Lakeland continues to capitalize on its ideal central Florida location along the I-4 corridor.  The City owns and operates Lakeland Electric, the third-largest publicly owned utility in Florida and it was one of the first to offer power in the Sunshine State over 110 years ago.
For additional information about the City of Lakeland, please explore LakelandGov.net.
Citizens are also invited to follow the City on social media.  
---