Public Notice: Portion of Wabash Avenue to Close for Electric Transmission Pole Relocation/Replacement
---
WHO: City of Lakeland, Wright of Florida, LLC & FDOT
WHAT: Electric transmission pole relocation/replacement
WHERE: Wabash Avenue between US 92 and Lanier Street
WHEN: March 1st – March 14th
WHY: Part of Wabash Avenue intersection improvement project
---
LAKELAND, FL (February 25, 2021) | A contractor (Wright of Florida, LLC) working for the City of Lakeland will be closing a portion of Wabash Avenue between US 92/George Jenkins Boulevard and Lanier Street for the relocation and replacement of three large electric transmission poles. The closure will start March 1, 2021, and is scheduled to end March 14, 2021.  The closure will be Monday through Friday from 7 a.m. – 5 p.m.  The impacted portion of Wabash Avenue will open for vehicular traffic each evening and on weekends. 
The transmission pole relocation is part of a much more comprehensive US 92 and Wabash Avenue intersection improvement project that is being funded by both the Florida Department of Transportation and the City of Lakeland.  Detours will be in place to least impact vehicular traffic and a map is attached outlining the detour route.  For more information regarding this project, contact Greg James, Assistant Director of Public Works at 863.834.4440.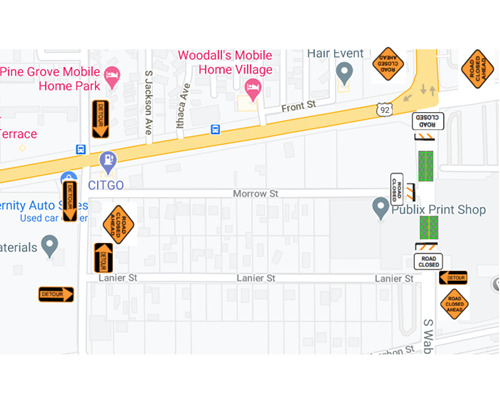 Contact
Greg James - Project Contact
Assistant Director of Public Works
City of Lakeland
863.834.4440
Greg.James@LakelandGov.net
Kevin Cook
Director of Communications
City of Lakeland
863.834.6264
Kevin.Cook@LakelandGov.net
---
About Lakeland
The City of Lakeland was incorporated in January 1885 and has grown to become one of the largest inland communities in Florida.  With a current population of over 100,000, Lakeland continues to grow. It has been designated a Standard Metropolitan Statistical Area by the US Census Bureau for over 30 years.  With tourist attractions and gulf beaches only an hour away, Lakeland continues to capitalize on its ideal central Florida location along the I-4 corridor.  The City owns and operates Lakeland Electric, the third-largest publicly owned utility in Florida and it was one of the first to offer power in the Sunshine State over 110 years ago.
For additional information about the City of Lakeland, please explore LakelandGov.net.
Citizens are also invited to follow the City on social media. 
---