City of Lakeland Black History Discovery Trail
---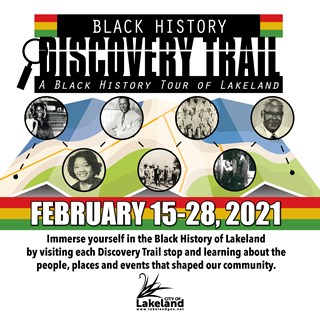 A Black History Tour of Lakeland
February 16-26, 2021
LAKELAND, FL (February 12, 2021) | Starting February 15th, the City of Lakeland invites the community to join on an adventure visiting City facilities to learn about Lakeland's Black History pioneers. This self-led activity encourages participants to safely participate by visiting City facilities, following safety protocols in place including temperature checks and the use of masks/face coverings. Additionally, for those unable to visit the locations in person, visit our website www.lakelandgov.net/discoverytrail for an online option.  
Black history is rich with stories of celebrated individuals who made their mark on the world. Athletes, artists, scholars, changemakers… all who helped make America what it is today. Over time, these heroes become icons to new generations but there are local pioneers who helped pave the way in race equality. The Discovery Trail is our way of giving these local heroes notoriety for their accomplishments.   There are five locations along the Discovery Trail and we invite the community to participate by visiting them all.  Begin at any trail stop to get your own Black History Discovery Trail Activity Card (1 per person). At each location, participants will get a sticker for their activity card. The first 100 completed cards, presented at Simpson Park Community Center, will receive a Black History Month Commemorative Bag filled with goodies.
Visit the following trail stops February 15th  – 26th to learn about leaders from departments across the City that forged the way for future generations and receive a sticker for your activity card.
Trail Stops
Lakeland Police Department Lobby
219 N Massachusetts Avenue, Lakeland, Florida 33801
Open 24 Hours
Combined stop for Police Department & Lakeland Fire Department
 
Lakeland City Hall Lobby 
228 S. Massachusetts Avenue, Lakeland, FL 33801
Monday – Friday: 8 a.m. –  5 p.m.
Combined stop for City Hall & Lakeland Electric


Jackson Branch Library Lobby

 


1700 N Florida Avenue,

 

Lakeland, FL 33805

 


Monday –  Thursday: 9 a.m. – 7 p.m.
Friday & Saturday: 9 a.m. –  5 p.m.

 




Simpson Park Community Center Lobby

 


1725 Martin Luther King Jr. Avenue, Lakeland, FL 33805

 


Monday –  Friday 10 a.m. – 7 p.m.
Saturday 9 a.m. – 3 p.m.
Sunday 12 p.m. – 4 p.m.


Coleman-Bush Building Lobby
1104 Martin Luther King Jr. Avenue, Lakeland, FL 33805

 


Monday – Friday: 8 a.m. – 5 p.m.
All completed activity cards can be redeemed at any City of Lakeland Recreation Center or Swimming Pool for a FREE visit! 
Those that want to participate online and discover the stories about Lakeland's Black History pioneers are invited to do so.  Learn about the leaders that helped shape our community, including photos and interactive content. Participants that provide an email address will receive a certificate and the opportunity to redeem a free visit to one of our Recreation Centers or Swimming Pools at a future date. 
Go to LakelandGov.net/DiscoveryTrail and start your discovery! 
Contact
Kevin Cook
Director of Communications
City of Lakeland
863.834.6264
Kevin.Cook@LakelandGov.net
---
About Lakeland
The City of Lakeland was incorporated in January 1885 and has grown to become one of the largest inland communities in Florida.  With a current population of over 100,000, Lakeland continues to grow. It has been designated a Standard Metropolitan Statistical Area by the US Census Bureau for over 30 years.  With tourist attractions and gulf beaches only an hour away, Lakeland continues to capitalize on its ideal central Florida location along the I-4 corridor.  The City owns and operates Lakeland Electric, the third-largest publicly owned utility in Florida and it was one of the first to offer power in the Sunshine State over 110 years ago.
For additional information about the City of Lakeland, please explore LakelandGov.net.
Citizens are also invited to follow the City on social media. 
---