Lakeland Welcomes New Engine 51
---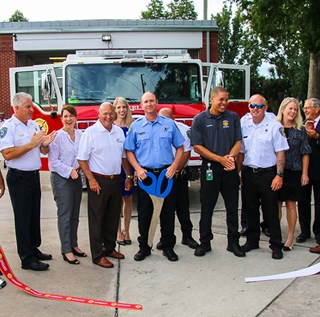 On August 5, 2019, the Lakeland Fire Department welcomed its newest fire engine, Engine 51, into service. This is an exciting addition to the department because Engine 51 is the Lakeland Fire Department's first clean-cab concept apparatus. E 51, and all other fire engines to come, are specially designed to protect the department's firefighters from unnecessary exposure to carcinogens. 
Community members, leaders, and City of Lakeland officials were in attendance to welcome the new apparatus at Fire Station 5 and learn more about its new features. Engine 51 is a Pierce Velocity fire engine. The new fire engine replaces the existing Engine 51 as part of the department's regularly scheduled replacement cycle. The new fire engine features several new protections for firefighters as part of the department's safety and health initiatives, while remaining cost neutral. The new features, designed to minimize exposures to harmful carcinogens include: exterior storage for self-contained breathing apparatus (SCBA), tools, and equipment; non-porous interiors for easy cleaning; HEPA filters through the interior cabin to eliminate outside contaminants; diesel exhaust removal system to eliminate harmful byproducts from the apparatus' engine; and outside storage for used bunker gear.
Download Engine 51 fact sheet here.
You can take an in-depth look at the new fire engine, learn more about its features in detail, and see what the welcome ceremony looked like here.